Active Community Involvement
We've been an active community member since we started farming here. Supporting the local community — both its businesses and people — is an important part of our definition of sustainable farming. We hire locally, promote from within, purchase locally whenever possible, and support our employees' community activities.
We contribute to statewide initiatives and organizations including the Oregon Food Bank and Farmers Ending Hunger, donating 8,000 pounds of ground beef each month that the Oregon Food Bank then distributes statewide to organizations like Blanchet House.

Since 2008, we have continued this monthly commitment to provide a high quality, nutritious source of protein to the many Oregonians who receive their food from the Oregon Food Bank. We also have worked with other organizations on this collaborative effort including Farmers Ending Hunger.

Each year we donate money and provide other support to local service organizations and youth groups including soccer leagues, high school athletic programs, and after-school/summer sports.

Our People Make the Difference
Our employees are encouraged to be active in their communities and serve on our Community Giving program committee. Here are just a few examples of ways we give back to the local community:
We sponsor quarterly on-site blood drives with the American Red Cross.
Our unique internship program provides scholarships and hands-on learning opportunities for college students.
We joined the Boardman Fire District and have one firefighting vehicle stationed on the farm. 
Our employees volunteer as first responders and we provide annual CPR training classes for managers and supervisors.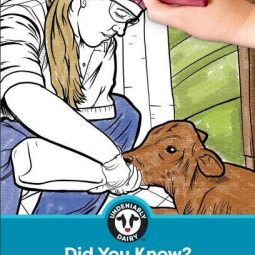 Check out this fun coloring book to download for your kids.
In this coloring book you'll find a great recipe for cheese crisps and some fun facts about dairy farming.
Mda Coloring Book 2019 Online