Closed Loop Agriculture – It Starts with the Cows
The dairy herd at Threemile Canyon Farms is made up of 33,000 cows. As you can image, a lot goes into a herd that size—and a lot comes out of it, too. At the core of our operation is our closed-loop system, whereby we constructively use everything that's created in a sustainable cycle of productivity. 
"The dairy is the engine that keeps the whole system moving," says General Manager Marty Myers. "And it all starts with the cows." 
Our cows are born, raised, and live their whole lives on our farm. They produce milk and manure, and it may surprise you that we get the most out of both.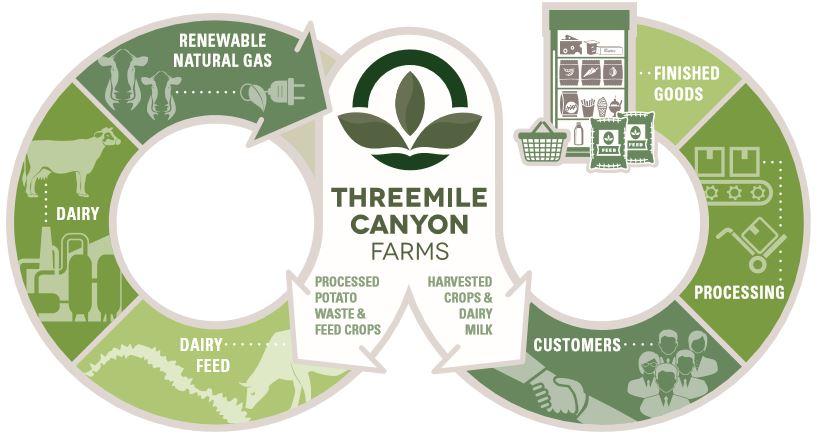 Manure is by no means wasted at Threemile. It's processed through our digester system, which captures methane, to be turned into renewable natural gas (RNG), which is then used as transportation fuel. Manure is also a natural fertilizer that we apply to thousands of acres of our feed, traditional, and organic crops. 
That organic material replaces the need for conventional fertilizers and soil amendments, which would typically be fossil fuel based and come from outside sources.
"The dairy is the engine that keeps the whole system moving, and it all starts with the cows."

Marty Myers, General Manager
The crops that grow with the help of this fertilizer are either eaten by our cows or, in the case of potatoes and organic vegetables, delivered to nearby processors. About 60 percent of the food consumed by our dairy herd is grown on the farm, and byproducts like potato waste, onion waste, grass and wheat straw, and mint waste are also used as highly nutritious feed. 
The health of our farm is largely dependent on the health of our cows. We have several animal nutritionists at the farm who make sure that our cows receive the right mix of vitamins, minerals, and fiber in their diet. It's just part of our overall commitment to the highest standards of animal welfare. 
And, after growing that good food for people and animals, the process starts over, and the loop continues where it began. As Marty puts it, "Everything is in circular motion on the farm, beginning and ending with the cows."